Because Boys will be Boys...
Specific Information on Parenting Boys

Are you the parent of a boy?

Are you expecting a boy?

Are you experiencing difficulties parenting boys?

Are you just looking for general parenting advice for your boy?


Look no further! You have come to the right place. I'm a mom of two boys who created this website to answer your questions. I will share with you the insight I gained from raising my own boys and from my research into the topic of raising boys.
It seems like none of the parenting websites around are gender specific, as if gender didn't matter. But, if you are already a parent, you will know as much as I do that boys and girls are indeed different from the youngest age. Therefore, they need different parenting. This is why you will only find information on parenting boys here, to give you the answers you need to help you parent your boy.
You'll find practical and useful information on this site, including:
Child development stages, to help you understand your boy's age appropriate behavior
All about parenting styles
Child discipline and why it's important
A list of interesting parenting resources specific to boys
Help to select the perfect baby boy name
Some parenting humor because, let's face it, all parents need a good laugh from time to time!
Advice on how to handle special circumstances, such as step parenting, gay parenting, parenting a boy with ADHD, etc.
Information on infant circumcision
A compilation of my top good parenting tips
And lots more! Please stay tuned as I'm constantly adding content to this site (you can do so by clicking on the orange "XML/RSS" button in the left navigation bar)

Are you still not convinced about the gender thing? Take a look at this picture of my two boys, Logan and Connor.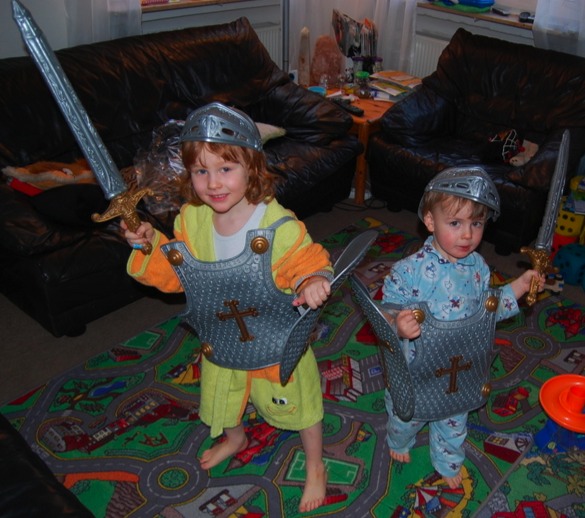 See, if they'd been girls, they would have been princesses! ;)
(for the record, they were fighting dragons)
---


Want to learn more about Parenting Boys? Keep up to date with the latest news and receive our special parenting tips?
Simple! Just fill in this form to subscribe to our monthly newsletter:
Boys will be Boys!



---
A quick overview of the site:
Who am I? I'm Corinne, the webmaster from www.Parenting-Boys.com
Site search for the www.Parenting-Boys.com website
The Parenting Boys Blog keeps you up to date with the latest additions and changes to the Parenting-Boys.com Web site. Subscribe here.
Sign-up page for the Boys will be Boys! Newsletter from Parenting-Boys.com
There are thousands of baby boy names. Find here help and advice to choose the perfect name for YOUR baby boy with lists according to popularity or themes.
All you need to know about infant circumcision, to make an informed decision.
How knowledge of the basic child development stages can help you understand your boy's age appropriate behavior.
What you need to know about parenting styles and the consequences on children. Find here a description of the four main parenting styles, plus many other variations
What is child discipline? Why is it important? How can you implement effective discipline?
A compilation of good parenting tips, derived from my own experience and research. Because top parenting tips should be shared...
Are you single parenting your boy? Here you'll learn about the facts and effects of single parenting, together with the advantages and the disadvantages.
Because parenting our little ones sometimes takes a toll on us, some parenting humor to help you when the going gets tough. Here you will find funny parenting quotes, jokes and quizzes.
Disclaimer for the content of the website www.Parenting-Boys.com
Privacy Policy for the website www.Parenting-Boys.com
Contact form to get in touch with the www.Parenting-Boys.com's webmaster
Would you like to share your knowledge about parenting boys? Great, find out how you can submit your story or tip here.
Because Boys will be Boys...
© Copyright 2008-2009 Parenting-Boys.com

Click here to view Disclaimer